If you have plans to move from one city to another or a different home or office in the same city, it is always best to have all the help available. Moving can be pretty stressful for many as it is demanding both physically and emotionally. 
Nothing can be more challenging than stuffing all the belongings into boxes without causing any damage. While packing can be hectic, unpacking after your move can be pretty overwhelming at the same time. 
Movers and Packers make use of their expertise and experience to make the whole experience manageable and make it easy for homeowners to find the things they need with ease once they are in their new homes. 
Mentioned below are 5 reasons why you need help from professional packers and movers when relocating.
Reasons To Hire Professional Movers for Packing
1. Minimizes The Damage To Property
Before moving to a new home or office, you certainly do not want to break, spill, or scratch anything that can cost you a lot of money when the property owner walks through. When you hire professional movers, they not only take care of your belongings but also protect the walls, floors, and fixtures. 
2.  No Damage To Your Belongings
Most of the time, DIY packers do not pay attention when packing fragile items. As homeowners are already rushed and tired, they focus only on getting the job done and not on perfection. This leads to poor packing or stuffing of boxes, making them overweight. 
On the other hand, professional packers pay attention to even the tiniest detail and ensure every belonging is properly packed. They even keep a tab on the weight of the boxes and make sure every box is balanced. 
Most professional packers do not accept liability for any damaged goods when the owner packs them. 
3.  Saves Money
If you are worried about the cost factor, think once again. Moving is an expensive endeavor, and you also need to spend a lot on packing boxes of all sizes, bubble wrap, packaging tape, and a lot more. The actual cost of packing can be more than what you expect, not to mention the stress that comes with it. 
So, if you are worried that you cannot afford professional packers, think about the above cost factors. 
4.  Saves Time
Did you ever wonder how long it might take if you do your packing? The task can be very tiresome if you stay in a big house with more family members. While you might have to spend weeks, professional packing and unpacking team can do the job perfectly in three to four days. 
As you will have many things to worry about, you can leave the packing to professional packers. Besides, the boxes that are packed professionally are organized, and hence you spend less time sorting and locating items. 
5.  Open The First boxes
If you are wondering what the open first boxes are, these are the boxes that are filled with belongings that you might need immediately after moving to your new home or office. You get to decide what you might need in the initial days, and the packers pack them in a marked box. 
Last Words
Now that you know the reasons why you need to hire professional movers for packing, it is time you give a call to Melbourne Movers Packers to get a free moving and packing quote.
This way, you need not worry about your belongings while moving and get settled in your new home or office in no time. 
Call us today for your small to large-scale moving requirements. With our wide range of moving services, we will make your relocation easy and safe.
To get a free quote, you can Email us at: info@melbournemoverspackers.com.au

Or you can also give us a call on: 1800 865 005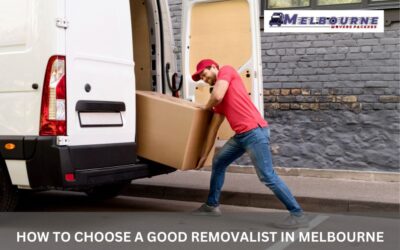 We are aware of how moving is a stressful and risky task. Packing your entire memories, making sure none of it gets broken down. Disassembling your beds, sofa, fridge, pool table, jacuzzi, and a lot more can lead you to major stress and anxiety. We all know In this...