Packing electronics differ slightly from packing other belongings while moving your business. In today's world, you're likely to have multiple computers and IT equipment to carry safely, in addition to other goods like office furniture.
Transporting peripherals, computers, artwork, and equipment needs extra care during an office move. Things may appear easy when we consider an office relocation, but they are not. Handling heavy equipment might make the relocation much more difficult than anticipated. So, to make sure you thoroughly plan and organize your company relocation, Melbourne Movers Packers has compiled the ways for packing and moving IT equipment. This guide will definitely minimize the risk of damage to your computers.
Safest Ways For Packing And Moving IT Equipment
So let's have a look at some of the methods our office removalists in Melbourne employ while packaging and moving office supplies and technological devices.
1. Prepare An Inventory List
Regardless of whether you hire professional office movers or not, creating an inventory list is a necessary step in the office removal process. So, make sure to include all relevant information about the office equipment and supplies. This inventory list will be necessary to check that you don't forget to move any essential items. You may even present the office moving companies with this inventory list to get a moving quotation.
2. Set A Budget
When moving IT equipment, setting a budget becomes essential to avoid unnecessary expenses and potential damage to valuable electronics. Electronics are a significant investment, and any mishaps during the move can result in increased costs and budget constraints. By carefully planning the relocation and exploring ways to cut moving costs without compromising on safety and efficiency, you can ensure a smooth and cost-effective move for your IT equipment. Prioritizing the protection of your electronics and finding cost-saving solutions will help you maintain control over your budget during the moving process.
3. Eliminate As Much As Possible
The more gadgets you have, the more difficult it is to transfer them, just like it is to pack other items. To make packing IT equipment simpler, think about getting rid of some of your IT devices. You can sell the broken electronics or give the functioning devices you've upgraded to a charity. This will not only smoothen your office relocation but also reduce the costs of moving IT equipment.
4. Backup Your Data
Backing up your data is a crucial step when moving electronic equipment, especially hard drives. Regardless of the type of electronics you have, hard drives store valuable information that needs protection. As they have delicate nature and precision, it's essential to handle them with care during moving IT equipment. Before packing the hard drives, take the time to ensure you have made a complete backup of all your data. This precautionary measure ensures that even if something were to happen during the move, your important information remains safe and accessible.
5. Take Photographs And Disconnect
By taking pictures of the cord connections before unplugging them, you can easily reassemble them correctly at your new location. Packing each cord separately and securely wrapping them will further safeguard against potential damage during transit. This simple step of documenting and organizing cables can prevent unnecessary expenses and ensure that your gadgets remain in excellent condition throughout the move.
Once you have taken photographs, the next step is to disconnect all electrically powered components. Take the time to thoroughly disassemble each gadget before packing. This involves wrapping the cables, removing detachable components, and separating monitors, keyboards, mouse, printers, and other peripherals. Properly disassembling your electronics ensures that they are protected and less prone to damage during the moving process. Additionally, it makes the packing and unpacking at your new location more organized and efficient, making the entire moving experience smoother and stress-free.
6. Gather Wrapping Supplies 
Before you start packing your IT equipment, make sure to gather all the necessary packing supplies. You can look for sources of reusable packing materials to minimize waste. Assess your IT equipment to determine the specific supplies and packaging materials needed. Having the right wrapping supplies ensures that your sensitive electronics are well-protected during the relocation process, reducing the risk of damage and ensuring a smooth and secure move. Some essential items to consider are:
Authentic boxes

Shipping containers of various sizes

Foam Punches

Bubble wrapping,

Moving sheets

Anti-static bags

Tape
7. Distribute Work Among Employees
One effective approach is to assign each employee the responsibility of packing their own desk and equipment. This division of labor distributes the workload evenly among the staff, allowing them to pack their belongings meticulously. Providing your employees with the necessary packing materials further facilitates this process. This method of packing and moving is highly favored as it minimizes business disruptions during the relocation. With everyone actively involved in the packing process, you can achieve a well-organized and efficient move for your IT equipment and office belongings.
8. Label All Your Equipment
One of the most crucial components of moving IT equipment is labeling the moving boxes. Making labels greatly simplifies the procedure. So, don't forget to name every cable, as even the tiniest component misplaced can cause the entire piece of equipment to fail. 
You can use labels, stickers, or other marks of your choice to organize all of your separately packaged equipment. It will assist you in unpacking and reconnecting the office equipment at your new workplace.
9. Load Carefully
Loading your IT equipment and office belongings carefully is crucial for a successful office move. So, ensure that trained office movers handle the loading process to minimize the risk of damage during transportation. You can prioritize loading heavier items at the bottom and lighter ones on top to maintain balance and stability inside the moving vehicle. By handling the loading process carefully, you can safeguard your valuable equipment and ensure a smooth and stress-free relocation to your new workplace or home.
Conclusion
Moving IT equipment and office belongings can be challenging, but with proper planning and organization, it can be a smooth and stress-free experience. So, by following the tips and guidelines provided in this office removal guide to pack and move IT equipment, you can ensure the safety and security of your valuable electronics during the relocation process.
Achieving this aim will require qualified management and assistance from professionals. Finishing the office removal on time and within budget is a difficult undertaking. So, allow Melbourne Movers Packers' cheap office removalists in Melbourne to manage IT disconnect and reconnect for you. Our team of movers in Melbourne takes every precaution to reduce the risk of damage. Whether you are looking for office removalists in Craigieburn or any part of Melbourne, our team is always ready to help. Just call us at 1800 865 005 or mail your query to info@melbournemoverspackers.com.au  to schedule your IT equipment relocation with us!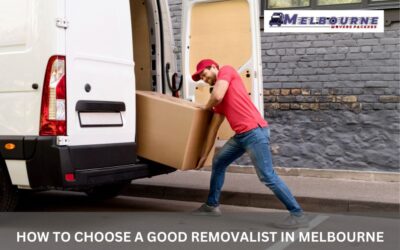 We are aware of how moving is a stressful and risky task. Packing your entire memories, making sure none of it gets broken down. Disassembling your beds, sofa, fridge, pool table, jacuzzi, and a lot more can lead you to major stress and anxiety. We all know In this...