Are you planning for an office relocation? Well, this could be a tricky task if you do not plan. There are multiple tasks that you need to process before successful office relocation. 
Today, many companies provide you with professional services such as office removals. In Melbourne, these moving companies are known as removalists. So, before you plan the same, you must know the important things to look for in a good office moving company in Melbourne.
Things To Look For In A Good Office Moving Company
1. The Plan
Office relocation is tougher than house relocation for a lot of reasons. You have to shift the entire setup to a new location and start everything as soon as possible. Hence, you can only rely upon the moving companies that provide you with a proper plan. It will ensure that everything will be according to the plan.
2. The Budget
This one is something all we look for in a moving company. However, you need to understand that cheap services are not always top-quality ones. Hence, ask the moving company to quote their budget and then tally their quality with it before you hire them. You can explore the different budgets online as well.
3. Warranty
There are many appliances, furniture, and other valuables that need to be intact after the relocation. Hence, you need to opt for the companies that provide you with a warranty over the handling of all your office belongings.
4. Punctuality
This criterion is essential for office relocations. When you have a meeting with the moving team before the relocation, always fix the date and time. As a result, they will value your time and, therefore, be punctual to process quick and efficient removal.
5. Professionalism
A professional attitude is what you can expect from a professional moving company. At the scheduled time, the professionals will appear in proper uniform for the relocation. They will let you know the road plan and move according to your convenience.
6. Customer Reviews
The top moving company in Melbourn will provide you with testimonials from their valuable clients. You can explore the same on their official websites as well. It will provide you with some necessary information about their services and help you to know their ratings.
7. Customized Plans 
Some office removal companies provide customized plans for their valuable customers. While there are fixed plans for specific services, a customized plan helps you to get things done according to your convenience. You need to look for the same in a moving company.
Conclusion
In conclusion, planning an office relocation is a complex endeavor that requires careful consideration and the right resources. The success of such a transition hinges on selecting a reliable and proficient office moving company.
Above are the 7 essential tips to know things to look for in a good office moving company. To know more about the same, feel free to contact us. We, Melbourne Movers Packers, are one of the pioneers when it comes to office removal services in Melbourne. 
To know more about our different services and packages, feel free to contact us.
To get a free quote, you can Email us at: info@melbournemoverspackers.com.au

Or you can also give us a call on: 1800 865 005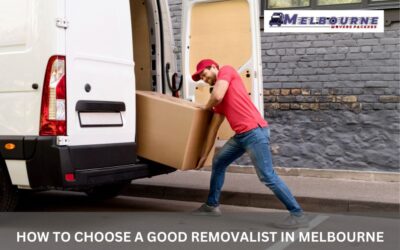 We are aware of how moving is a stressful and risky task. Packing your entire memories, making sure none of it gets broken down. Disassembling your beds, sofa, fridge, pool table, jacuzzi, and a lot more can lead you to major stress and anxiety. We all know In this...